The 6 Top Femboy Porn Sites
A femboy is a transsexual who is a biological male but dresses up as a female. Femboys are not to be confused with ladyboys, who are Asian shemales with breast implants. The main difference between femboys and transsexuals you usually see in porn is that femboys are flat-chested.
I've already reviewed the best femboy porn sites (there aren't many), but in this blog post, I want to give you a quick mini-review of each site so that you can quickly determine which site is best for you.
So here are my top femboy porn websites.
#1 – Femout XXX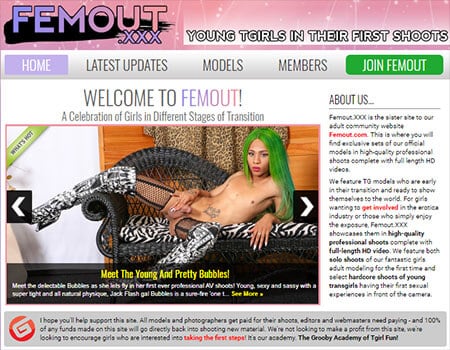 Femout (review) is a Grooby production site that gives you a variety of shapes and sizes with amateur Tgirls in varying stages of their transsexual development. Some models are more feminine than others, and the site is as much of a community as a porn site with an active members area where you can rate and comment on your favorite Tgirls.
Femout is one of my Top 10 Editor's Picks at #10. It's primarily solo masturbation, but there's some hardcore fucking, with or without condoms depending on the scene. There are weekly updates with fresh new TG models in early transitions performing for their first time on camera.
If you enjoy amateur models and first-time hardcore shoots, this site is worth your attention. With 1,500+ scenes with the latest videos in 4K quality and 391+ fresh Tgirls in their first-time porn movies, it's a unique site and fills a much-needed niche in the transgender category.
Price & Membership
1 month for $35.00
3 months for $70.00
6 months for $130.00
Annual for $220.00
Join by credit card, PayPal, or Bitcoin.
#2 – Femboyish
The Femboyish channel is the latest Adult Time porn platform (reviews) addition, with 300+ porn channels and 55,000+ videos, and a handful of videos at Femboyish (2,500 in the transgender category). So on top of the femboy porn, you also get access to more porn in all categories than you will ever have time to watch.
They have found high-end talent for the videos, and it's a play with erotica indulging with Gonzo porn. Femboyish is a new channel on Adult Time, so it's still limited in the number of videos, but as always, with Adult Time, you get more content with time. The platform is updated eight times per day with new content.
Joining Femboyish only for femboy content is not worth it yet as the number of videos is too small, but it's worth it if you are also interested in watching transgender porn and regular straight or gay porn.
Price & Membership
2 days trial for $2.95 (only streaming)
30 days for $14.95
90 days for $22.98 per month
365 days for $7.95 per month
Join by credit card or gift card.
#3 – Femboy Joy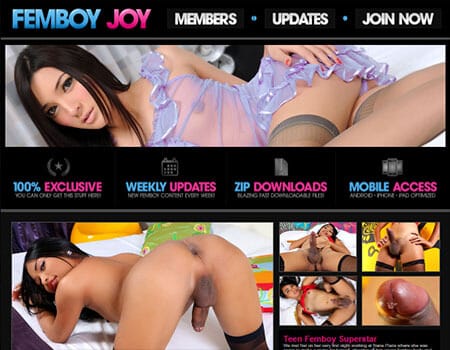 Femboy Joy (review) features all-natural femboys from Thailand in hardcore and solo masturbation videos. This is my #1 pick for the best Asian femboy site and includes Ladyboy Inc (Thai ladyboys with big tits) as a free bonus site.
If more people knew about this site, it would probably be among the most popular sites in the TS niche. Why? Because the models are out of this world. They are the most beautiful, feminine, small-titted ladyboys you'll ever see in porn.
If you visit our Top 10 Asian Ladyboy Sites, you'll find Ladyboy Inc and Femboy Joy ranked as the best sites in their category. Adding up the number of videos from each site, you end up with over 500+ original videos exclusive to the network. The site updates weekly in Full HD with fresh new Asian ladyboys, so it will only improve over time. You won't regret joining this site if you enjoy Thai ladyboys with small tits.
Price & Membership
1 month for $24.95
3 months for $59.85 (1 month FREE!)
Join by credit card.
#4 – Femout Sex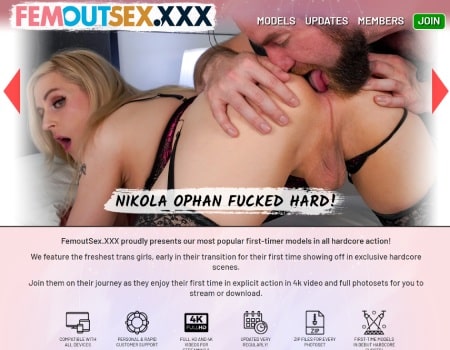 Due to the massive success of Femout, Grooby has launched a hardcore version known as Femout Sex (review). It follows the same concept of Femout, but instead of primarily solo masturbation, every scene features a cute femboy engaging in hardcore sex.
Some models are the same as Femout, but "first-time porn" still holds since these sexy American femboys are fucking on camera for the first time. I also like the mobile-compatible theme, allowing me to stream or download on any device.
Right now, you'll find 252+ exclusive videos that don't overlap with Femout. But after you read this review, that number will have changed since they update frequently.
As for the sex, it's varied with femboys fucking males and other trans models, as well as femboys in bottom roles taking big black cocks and various ethnicities to mix things up.
Price & Membership
1 month for $35.00
3 months for $70.00
6 months for $130.00
Annual for $220.00
Join by credit card, PayPal, or Bitcoin.
#5 – Femboy Fever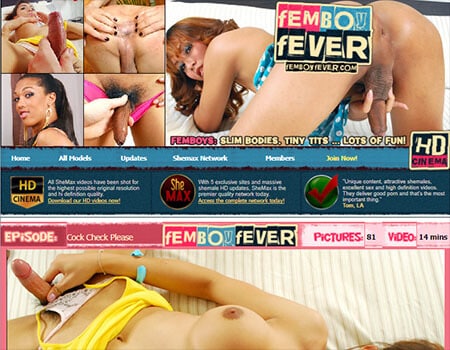 Femboy Fever (review) promises slim bodies and tiny tits in an all-original collection of hardcore femboys from Thailand and Brazil. It's primarily an Asian site featuring young and beautiful exhibitionists sucking cock and getting fucked. Although not as well known as the previously mentioned sites, it is a contender for the best femboy site.
Here's the problem: there are only 11 videos. Usually, I wouldn't recommend joining a site with such a thin amount of content. But as part of the SheMax Network, you end up with 450+ videos and photo content. Bonus sites include Ladyboy Player, Wild Shemale Orgies, Shemale TugJobs, and Black Shemale Stars. You can also get a taste of their videos from their Pornhub page.
All in all, Femboy Fever is a small site with a great bonus (Ladyboy Player is my favorite bonus site) for a great price, starting at only $15/month if you join for a year. If you're looking to extend your collection of Asian femboys, it's worth joining, even if it isn't that big in quantity.
Price & Membership
1 month for $5.00 (special offer)
5 months for $99.99
12 months for $179.99
Join by credit card.
#6 – Becoming Femme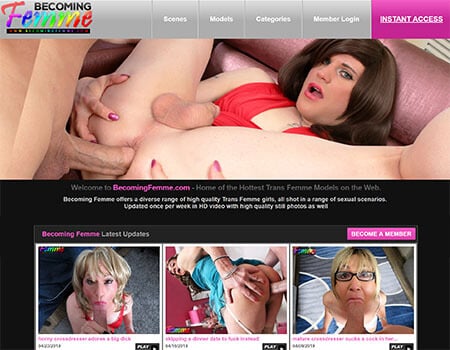 Becoming Femme (review) is an original collection of femboys, transvestites, and cross-dressers. Each scene is filmed in POV with horny trans girls sucking cock and taking it in the ass. Not every model is a perfect 10, and many are slightly overweight. But the point-of-view dirty talk is highly arousing.
The male performer in each scene is Christian, who is known as the prolific shemale fucker. This big-cocked tranny banger fucks the transvestites in their buttholes and often blows his load on their faces. You can choose between 1080P, 720P, and 480P in downloading, and online viewing options are also compatible with mobile devices.
I should also mention that every scene is filmed without condoms. So it's also a bareback site, which is rare in this niche.
I'm confident you'll get value from the 84+ original scenes, especially if you dig this type of trans girl.
Price & Membership
1 month – $27.99
3 months – $59.99
6 months – $99.99
12 months – $129.99
Pay by credit card or PayPal.
Femboy Porn Resources
There are other sites that I didn't mention that feature a great selection of femboys. For instance, T.Porn gives you 100% user-submitted content with ladyboys, femboys, and Western shemales. And TGirls Porn is a TS lesbian site featuring homemade porn movies without males. Both these sites are from the Grooby Productions studio, the global leader in transsexual porn. But because neither of the sites focuses entirely on femboys, they were omitted from the above list.
For fans of Thai ladyboys, a site worth mentioning is the number one Asian site, LadyboyGold.com. You can visit their home page and click on the Femboy category from the top menu to see their selection of Femboy porn videos.
To learn more, I recommend you visit and read each review or find the most popular stars by reading our article – Best Femboy Pornstars.