Shemale Porn Sites article updated on March 3, 2023, by TS Reviews
Which Are The Best Premium Trans Porn Sites?
In this article, I will share with you the 20 best Shemale porn sites. Transgender porn is no longer a niche porn category; today it's part of the mainstream porn that both girls and guys enjoy watching. The interest in trans porn sites has grown tremendously over the last few years.
You can learn more about each site in the trans porn site list by following the links to the full reviews, or you can click on the site name to visit the site.
So here're my top pick of the 20 best trans porn sites.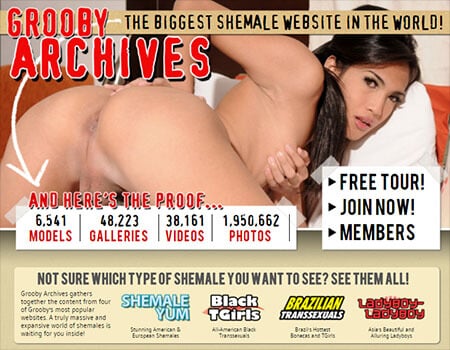 Grooby Archives
GroobyArchives.com is probably the largest trans porn site out there, with a video library containing 41,854+ trans porn videos, 7,897 trans pornstars, and 2,377,287 images. The collection of videos is older content taken from the sites Grooby Girls, Brazilian Transsexuals, Black Tgirls, and Ladyboy-Ladyboy.
Here you get the big-dicked ebony pornstars, the Brazilian bug butts, and the super feminine Asian Ladyboys all in one site. Grooby productions have been around for a long time and you can trace some of the content all the way back to 1996.
Grooby Archies has many different options when it comes to membership, and the cheapest one is the annual deal for $200.00, and that's only $0.55 per day. Then you also have a monthly membership for $29.95.
Learn more and get all the site details in our Grooby Archives review.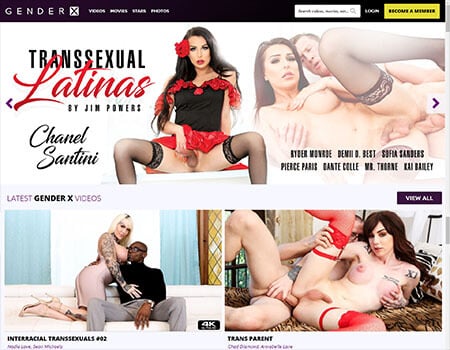 Gender X
GenderXfilms.com is the latest top-quality transgender porn site on the market, with all videos in stunning 4K Ultra HD. Jim Powers is the director behind these well-produced porn videos with a storyline. And it's not only the videos, the Gender X pornstars are some of the best in the industry.
Watch stars like Aubrey Kate, Casey Kisses, Chanel Santini, Domino Presley, Khloe Kay, Luna Love, and many more. You can watch the full movies or search by scenes from movies like TS 101, Transfer Student, Trans BDSM, Trans Baby Sitters, Trans Candy, Trans Pool Party, etc.
And we have a special deal for our readers where you SAVE 50% on the 1-month membership. So for 1 month you only pay $14.95, but you can save even more if signing up for 1 year and pay only $7.95 per month.
Get more site insights in our Gender X review.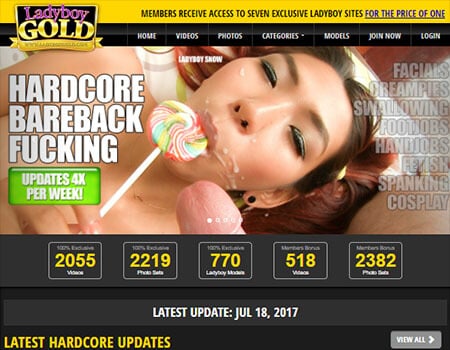 Ladyboy Gold
LadyboyGold.com is home to the best Thai ladyboy porn videos and amateur Asian ladyboys from Thailand.  Lady Gold is more than just a site; it's a network with sites like Ladyboys Fucked Bareback, TS Raw, Ladyboy Vice, and others.
Here you get over 3,135+ of the hottest exclusive Thai ladyboy porn videos in 4K quality. And on top of that, you have the 1045+ amateur ladyboys from Thailand that you can get in contact with. So if you are planning a holiday to Thailand in the feature you can hook up with your favorite Thai trans porn star!
They don't offer so many options when it comes to membership. You can choose between a 1-month and a 3-month membership for $29.94 or $79.95.
Read our Ladyboy Gold review to learn more about this top Thai ladyboy porn network.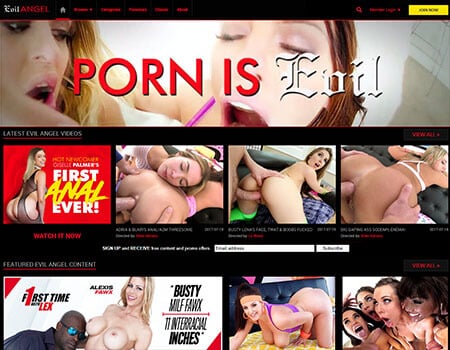 Evil Angel
EvilAngel.com is probably one of the most know names in the porn industry. if you are old enough and used to visit the video stories back in the 90s you for sure remember seeing the Evil Angel videos on the shelf. Luckily now we don't need to rent or pay just for one video; now we get access to the whole collection from the Evil Angel home page.
Evil Angel is a network of 25+ sites which 4 of which are pure transgender porn sites. The good thing here is that when it comes to Evil Angel porn movies we know they always deliver quality products as well as video quality. I promise you won't be disappointed with the Evil Angel transgender porn videos.
We have a special deal for you where you SAVE 50% on the 1-month membership and only need to pay $14.95. But the best money-saving deal is the annual membership which costs only $11.66 per month.
Learn more about the site in our full Evil Angel review.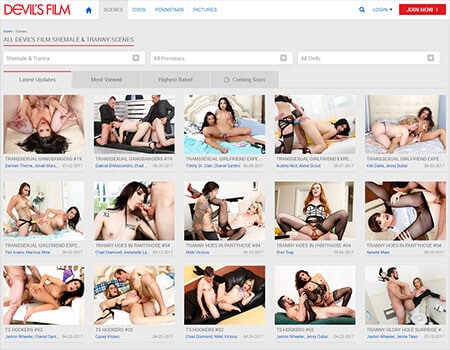 Devils Film
DevilsFilm.com is the choice for many porn fans that looking for high-quality porn videos with the latest in 4K Ultra HD. The trans porn section at Devils Film is huge with a wide variety of themes. You get lesbian trans scenes, studs that fucks trans as well as trans fuck guy videos.
They continue to update with new DVD releases adding to the huge trans porn video collection. Here you can find TS porn series like Transsexual Girlfriend Experience, TS Hookers, and Transsexual Babysitters. And if you also are interested in mainstream straight porn then you have more content than you will ever need here.
Take advantage of our Devils Film discount and SAVE 50% on a 1-month membership. Or get the annual membership for only $95.90 which gives you a monthly cost of $7.95.
Learn more in our full Devils Film review.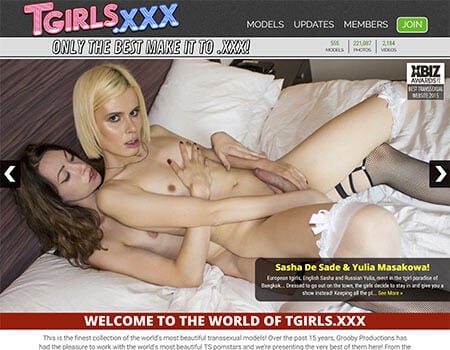 TGirls XXX
TGirls.XXX earlier known as Shemale XXX. This is a fast-growing site with regular updates with new videos and pornstars added to the site. The videos are a balance between solo masturbation to hardcore trans sex videos. You will want to log in here regularly to keep up with the new top-notch content that is being added.
As a member at TGirls XXX you have over 2,200 videos ready to be downloaded or streamed to your computer or smartphone. Then you have all the transgender pornstars which some you might have seen earlier if you have paid a visit to sites like  Franks Tgirl World, Ladyboy-Ladyboy, Black Tgirls, Brazilian Transsexuals, and TGirl Japan.
You have a few membership options to choose from here. If signing up for only 1 month you will pay $36.99, to get the cheapest monthly deal you need to go for the annual membership that costs $240.00.
Learn more about the site details and membership options in the TGirls XXX review.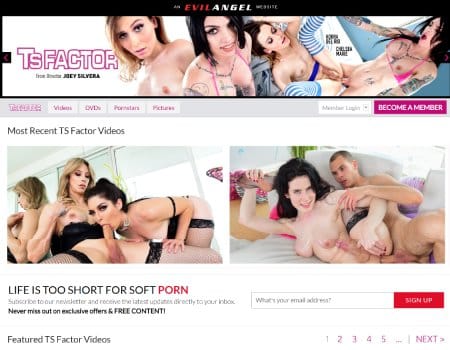 TS Factor (Shemale Idol)
TSFactor.com is one of the shemale porn sites inside the Evil Angel network. So be ready for top-quality videos with shemale fuck guys, shemale fuck shemale, and guys fuck shemale! Watch these top-notch videos directed by Joey Silvera in full HD. With famous pornstars like Chanel Couture, Bailey Jay, Jane Marie, Ella Hollywood, and many more.
At TS Factor you get 620+ exclusive videos taken from various Evil Angel DVDs. The videos are in the hardcore category with often one male and one or two transgender pornstars in each scene. So you can expect a lot of threesome action as well as sloppy blowjob porn with both guys and transgender sucking cock.
The price for all this content is very reasonable and if you signup for 1 year you only $7.95 per month. Or you can take advantage of our special discount and get 50% off on a one-month membership and pay only $14.95.
Get more details and site insights in our TS Factor review.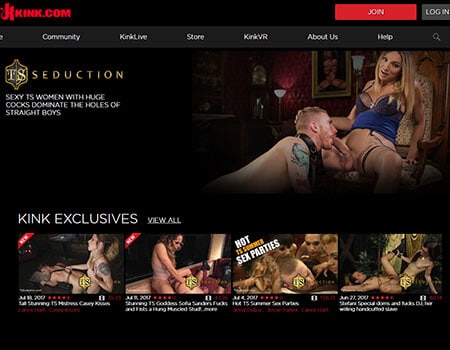 TS Seduction
TSSeduction.com gives you the best combination if you are transgender, BDSM, kink, and hardcore TS fuck guy videos. If you are new to the transgender porn niche then TS Seduction is probably not the site to start with. But on the other hand, if you are looking for dominant trans porn, with rough TS fuck Guy videos then you have come to the best place.
TS Seduction is part of the famous fetish network Kink.com. Watch when straight guys getting fucked by transgender, using both their cock and dildos to stretch their asses. Here you can find some of the best hardcore trans gangbang content on the net. This site is most if you're a real fetish trans porn. And inside the Kink network, you get over 10,000 hours of fetish porn.
This awesome fetish porn network's price is $19.99 per month if you sign up for a year. You can also pay $39.99 for one month.
Learn more about this fetish trans porn site in our TS Seduction review.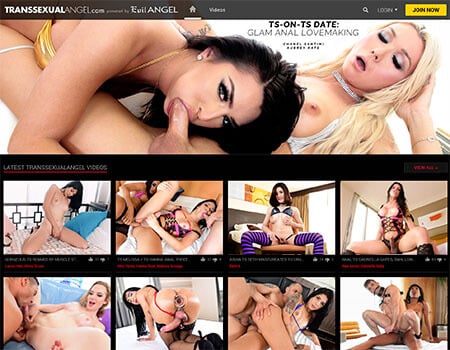 Transsexual Angel
TranssexualAngel.com is a part of the Evil Angel network, so as a member, you get access to the whole network. Download content without restrictions or watch it online from your computer, smartphone, or tablet.
The new videos come in 4K Ultra HD so Transsexual Angel is your perfect site if you want to watch it on your big-screen TV at home. These high-quality transgender porn scenes and DVDs really came to life when I tried it on my 55″ Samsung 4K Ultra HD TV. It's also an award-winning Trans-Visions site for 'Best Transsexual Series'.
And here, we can also offer a 50% discount on the 1-month membership, so you only need to pay $14.95. Or you can sign up for 2 days trial, 3 months, or get an annual membership for $7.95 per month.
Lerna more about the site in our Transsexual Angel review.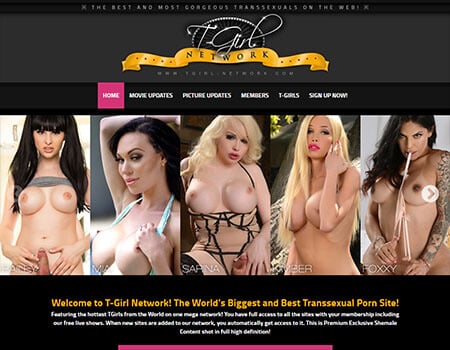 TGirl Network
TGirlNetwork.com is a high scoring trans porn mega site. You get new updates with porn videos in high-quality every week and also exclusive sites from hot trans pornstars like Kimber James, Sarina Valentina, Foxxy, Jessica Fox, Vaniity, Mia Isabella, Bailey Jay, and many more.
The videos and images contain Asian ladyboys, ebony Tgirls, and hot Amerian Transgender pornstars in everything from masturbation videos to hardcore bareback videos and some kinky fetish porn videos as well.
So in total, you get access to 28 websites with the hottest shemale pornstars, and for that, you pay $35.00 for one month. Or save on the monthly cost by signing up for 5 months, which will cost you $19.80 per month.
Learn more about the network in our TGirl Network review.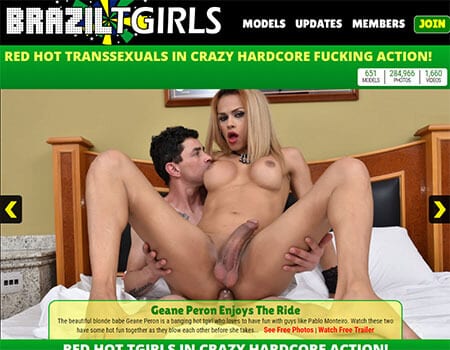 Brazil TGirls
BrazilTGirls.com another site from the Grooby Production focusing on the hot transgender pornstars from Brazil. If the Asian ladyboys are famous for their feminine looks, and the ebony Tgirls for their huge cocks then the Brazil shemales are famous for their big sexy butts. Who can say no to these hot girls?
Inside Brazil TGirls you find a huge collection of videos, pornstars, and images. How about 1,741+ videos, 689+ models, and 297,532 images! I think this will keep you busy for a while. As often when it comes to porn from Brazil the action is hardcore and these TGirls love both being on the bottom of the top in hardcore shemale fuck guy scenes.
You have many options when it comes to a membership at Brazil TGirls. You can signup for 1 month ($36.99), 3 months ($74.99), 6 months ($130.00), or for the best deal, you can get the annual membership that will only cost you $0.66 per day ($240.00/year).
Learn more about the site in our Brazil TGirls review.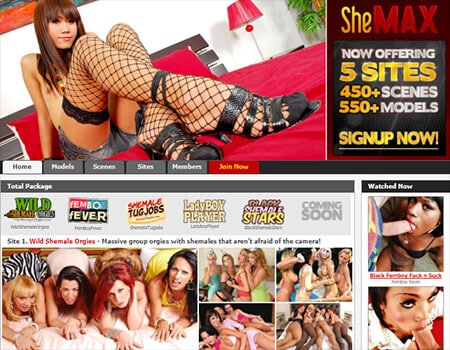 Shemax Network
ShemaxNetwork.com now offers 5 sites, 450+ scenes, and 550+ models. With Asian trans, Latina shemales, and ebony TGirls in exclusive hardcore trans xxx videos. Black Shemale Stars,  Wild Shemale Orgies, Femboy Fever, and  Shemale Tugjobs are the bonus sites you find inside the Shemax Network.
They're not Ultra HD videos here, but the latest updates are in full HD, which is often good enough for a great viewing experience. And with no download limits, you can download as many videos as you want. The video content is hardcore with guys fucking hot trans pornstars and some guys getting fucked as well.
To become a member here, you can get a 1-month membership for $29.95, 3 months $79.95, or get 6 months for $99.95 which will save you $80.00.
Get more inside details in our Shemax Network review.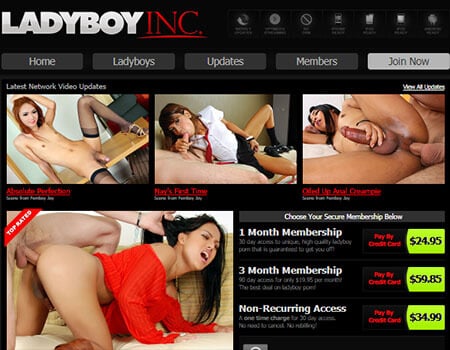 Ladyboy Inc
LadyboyInc.com when it comes to Thai ladyboy porn Ladyboy Inc is right up there at the top with Ladyboy Gold (review). This is an amazing collection of 500+ real Asian ladyboys from Thailand. If you ever visited the go-go bars in Bangkok, Pattaya, or Phuket there's a big chance that you have met some of these girls already.
The cameraman is doing his job here. He builds up the scene by having the amateur ladyboy pornstars take off their cloth slowly and at the same time giving that horny seductive look with their eyes. This Asian transgender knows what a guy wants. And in many scenes, they are dressed up in leather, latex, school uniforms, or some hot and sexy lingerie.
If you are a fan of Thai ladyboys then Ladyboy Inc is almost a must to have. A membership here costs $24.99 for 1 month or $59.85 for the 3 months membership.
Learn more about this Asian shemale porn site in our Ladyboy Inc review.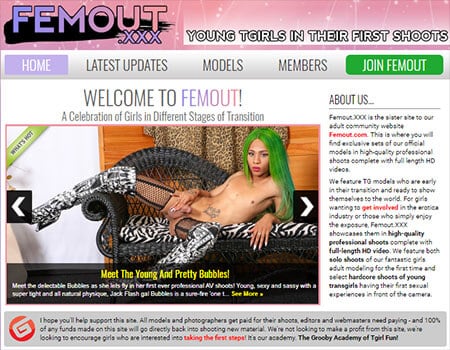 Femout XXX
Femout.XXX is for fans of transgender in their earlier stages before getting those huge silicone boobs that most shemale pornstars have. Femboy porn is slowly getting more popular; more and more guys are starting to prefer the flat-chesting transgender. I have also written the blog post — The Best Femboy Porn Sites.
The site was launched bn 2015 and has today managed to get 488 Femboys starring in 1,335 exclusive shoots for Femout XXX. The models are first-time pornstars and this is not a hardcore site. The videos focus on the Femboy models in masturbation shoots.
Becoming a member at Femout XXX will cost you $29.99 for a month or $200.00 for a full year.
Learn more about this Femboy site in our Femout XXX review.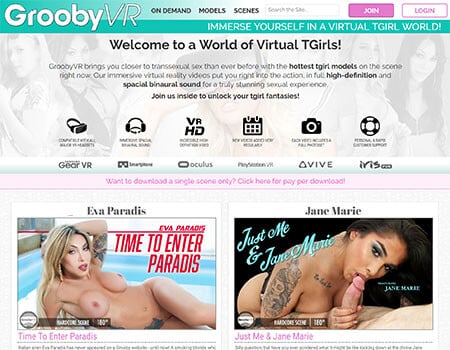 Grooby VR
GroobyVR.com are you are a fan of trans porn sites and want to make your online porn experience more real? Then virtual trans porn is the next step to take. If you already have a VR headset you can get started quickly and experience a whole new world of porn. I can say this, once you gone VR it's hard to go back to 2D porn again.
Grooby Productions have been the leader in the trans porn niche for decades so there was no surprise when they took the step to launch their own VR trans porn site. The virtual porn sites are often smaller than the regular porn sites, but Grooby VR has already built up a collection of more than 160+ transgender VR videos. So I recommend heading over there and start to check them out!
So how much does a trans VR porn membership cost? Actually not much more than the regular shemale porn sites. You get 1 month for $39.99 and up to $249.99 for the annual membership.
Learn more about the sites in our Grooby VR review.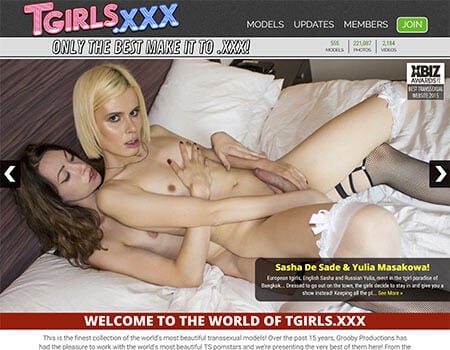 TGirls Sex XXX
TGirlsSex.XXX has a large selection of 726+ shemale pornstars and 2,405 exclusive videos. And the girls come from all over the world, so you can expect Asian ladyboys, American ebony transgender, and hot Latina shemales from Brazil. Jessica Fox, Natassia Dreams are two well-known pornstars that you can find at TGirls Sex XXX.
You also have videos with the super sexy Japanese newhalf pornstar Miran getting slammed by an American soldier. All the videos are exclusive to the site, but the models can also be found at other Grooby sites. The theme of the videos vary from solo masturbation to hardcore shemale fuck guy scenes.
A 1-month membership at TGirls Sex XXX will cost you $39.99, 3-months for $74.99, 6-months for $130.00, and the annual membership for $240.00.
Learn more about the site in our TGirls Sex XXX review.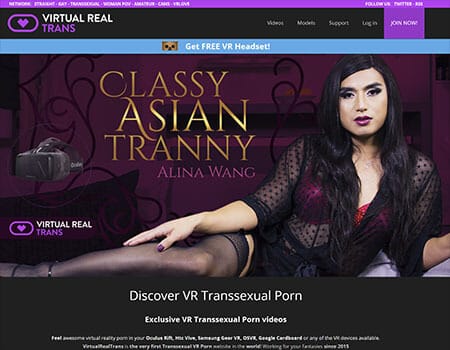 Virtual Real Trans
VirtualRealTrans.com deliver trans VR videos in stunning 5K quality. If you have a quality VR headset then Virtual Real Trans is a site to consider for your virtual real transgender porn experience. And here you can also synchronize sex toys like lovesene and KIIRO and bring the porn experience even to a higher level.
With over 140+ transgender VR videos I consider it to be one of the larger collections and especially one of the largest collections of 5K videos. Here you can get a virtual blowjob, fuck or get fucked by some of the hottest shemale pornstars like Natassia Dreams, Jonelle Brooks, and Angelina Torres.
And the best thing is doesn't cost more than your regular shemale paysite membership. You get one month for only $24.95 or if you signup for a year the monthly cost will only be $7.99.
Learn more about the site in our Virtual Real Trans review.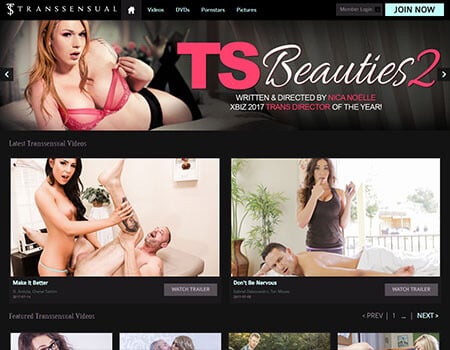 Transsensual
Transsensual.com are you looking for a shemale porn site with a high production value then I recommend you to visit Transsensual. The videos have a storyline behind them and just as the site name hints it also has that sensual touch before the hardcore porn start.
More than the high-quality videos you also get hot pornstars like Aubrey Kate, Sunday Valentina, and Jessy Dubai. The site is not the largest when it comes to quantity but with this kind of well-produced trans porn, you don't need as many. These are the kind of porn videos that you want to watch from the beginning to the end.
Get 50% off on the 1-month membership with our Transsensual discount, and pay only $14.95. Or signup for a full year and pay only $95.40.
Learn more about this sensual transgender porn sites in our Transsensual review.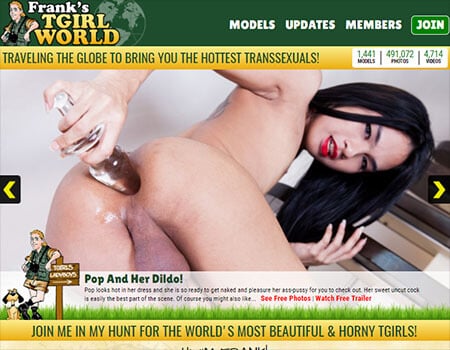 Franks TGirl World
FranksTGirlWorld.com is one of the most interesting trans porn sites. Here you get to follow Frank as he travels the world looking for new amateur transgender. He visits south-America, the Philippines, Thailand, Hawaii, and Mexico looking for new girls to add to the site.
So far, he has managed to add 3,200+ videos with 1,695+ amateur models. Frank is also the guy behind the camera recording these girls when they are stroking their cocks in POV scenes. I have not seen Frank in front of the camera but in some videos, you can hear his voice, so I guess he prefers not showing his face.
One thing I like about the Grooby sites is that you can pay by using your PayPal account, Bitcoin, or credit card. You get 1-month for $36.99 and up to an annual membership for $240.00.
Learn more about his travels in our Franks TGirl review.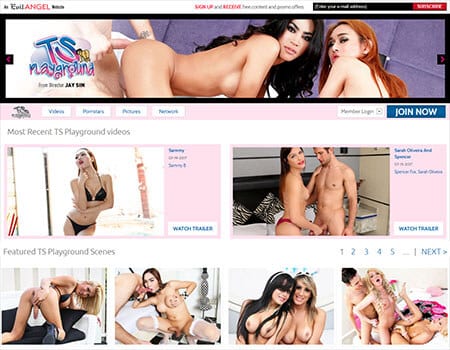 TS Playground
TSPlayground.com is an interesting porn site with full-HD videos directed by Jay Sinn. Features Jonelle Brooks, Alexandra Vexx, Casey Kisses, Aubrey Kate, Foxxy Natalie Mars, Many Mitchel, and many more of the hottest pornstars in the trans niche.
The site is part of the Evil Angel network so you will get access to much content. Inside the TS Playground, you find 421+ exclusive videos. If you are a fan of POV porn, then you will find a good selection of videos filmed in POV.
When joining TS Playground you also join the Evil Angel network with more content than you probably will ever be able to watch. With our discount, you only pay $14.95 for the 1-month.
Learn more about the site and membership option in our TS Playground review.
More Shemale Porn Sites
We have reviewed more than 139+ websites with the best premium shemale porn. To read more reviews, please check out all our trans porn site reviews.
If you want to learn more about the hottest transgender pornstars, look at our top 50 trans pornstar list.
Or if you are into live webcam porn, then check out Live Cam Reviews – Top 10 Trans Sex Cams